Bangkok – Pattaya: Kinh nghiệm du lịch Thái Lan tự túc
"Should I go on a tour or be self-sufficient?" – You should go on your own, everyone, it's very interesting. So I decided to do a review for those who want to travel to Thailand. Although it is not a successful trip, it will probably be an experience trip for me.
Bangkok – Pattaya: Self-sufficient travel experience in Thailand
Flight tickets: I go to Vietjet, because I book urgently, the price of the plane is not cheap. My round-trip fare is 3tr050k and arrive at Suvarnabhumi airport (super super big airport). There are some cheaper airlines like Nor Air, Asia will go to DonMuong airport (smaller airport) but because the time is not suitable for me, I do not book that flight.
Entry: On the plane, the flight attendants give me an entry and exit declaration, just fill in all the information on that declaration, when they pass through the immigration area they will check and stamp that declaration, they keep 1 sheet and then return it. Give yourself 1 sheet, remember to keep it so that when you fly back you will have to give that declaration back to people to exit. Well, when I got off the plane, I quickly followed the flow of people to the immigration office, because if I went slowly, it would take a lot of time to wait in line because it was very crowded.
Money change: I change at Ha Tam store right at Ben Thanh market, depending on the time the price of the bath goes up and down or if you have dollars available, you should only change 1 to the baht and then change it from dollars to baht, it will be more expensive. In Thailand, there are many places to change money at the airport, metro station and all commercial centers. But the best price I see in Superrich orange.
Support Services: Before I go, I have planned in advance which specific points I will play, where to go, where to buy tickets, how to use the network to save time and money… I use Klook service to order. advance ARL train ticket from the airport to the center, buy ready-made BTS day tickets, sightseeing tickets, unlimited 4G sim for 7 days. All purchased through Klook service will be cheaper than you buy directly.
Hotel: You go to agoda.com or booking.com to find the hotel where you want to stay to see the room rate and book on it. You need to have a Visa card, mastercard to pay in advance for the room rate if you have chosen the hotel you like. If you want to backpack or like the bustle at night, you should stay in Khaosan, it's like Bui Vien but it's not close to the train stations, so it's a bit more inconvenient to move. I rented a hotel in Khaosan. According to the schedule, I fly in the afternoon to Bangkok and then stay here until tomorrow morning to Pattaya. So I chose a cheap hotel for a temporary stay but it was quite ok, I booked through Erawan House hotel booking for about 400k VND/room.
I'll go the next day Pattaya, because I went with a group, I rented a mini apartment, the price of the hotel in Pattaya is much cheaper than Bangkok, the apartment I rented is Unixx, I am super satisfied because the apartment is new, airy, fully equipped, Looks very cute but costs 1100k. In Pattaya to play the next day back to Bangkok, I rented a hotel located right on Khaosan Road, Khaosan Palace Hotel, priced at 600k / 1 room. Nice hotel, clean, friendly staff very ok. The point to note when receiving the hotel is that you have to prepare a deposit in advance, depending on the hotel it can be 500-1000bath / 1 room, after returning they will refund you.
Move: Because it's far from BTS and MRT stations, I mostly walk here with grab. If you go in a group, it will be more economical to go grab. However, sometimes traffic jams will take up a lot of your time. In Bangkok, I also went to try a tuk tuk, but it was just a test, but it was very expensive. In Pattaya, songthew is the priority to move, because if you know how to pay the price, it only takes about 10-20bath / 1 move. At first, I didn't know that I thought 40bath / 1 person compared to tuktuk was cheap, but after reading the review, I realized I was cheated hihi
Eating:
Some typical dishes that come to Thailand should try are: Tomyum, mango sticky rice, roti banana chocolate, pineapple rice, grilled meat, padthai, bingsu, durian, banh khot, coconut ice cream…
Water is: should try beers, pomegranate juice, Thai milk tea.
My favorite thing in Thailand is Tomyum, when I think about it, I'm addicted to it hihi
Play Points:
Some attractions when coming to Thailand: Wat Arun, Wat Pho, Royal Palace, Ocean Life, Safari, Siam commercial centers, Terminal 21, Khaosan street, Pratunam, Platinum wholesale markets, Ratchada markets, Chaktukchak- markets are only open on weekends, China Town area, Pattaya – Koh Larn island – Walking streets – Golden temple, …
Specific schedule:
Day 1: Because I took an afternoon flight, I went to the airport to complete immigration procedures at around 9pm. I was so hungry that I went straight to 7-11 to eat a packet of noodles. After that, I went to the Klook counter on the same floor as the ARL train station to exchange for train tickets as well as the tickets I bought on the app. Because the airport is very large, you should ask quickly to avoid getting lost. After finishing, I boarded the ARL train and went to the end of Phaya Thai station. Because my hotel is located in Khaosan, so it's a bit far from the center, at that time I took grab to the hotel. Check in is also 11am. We go to the street, enjoy the food and dance. I have to say it's super fun.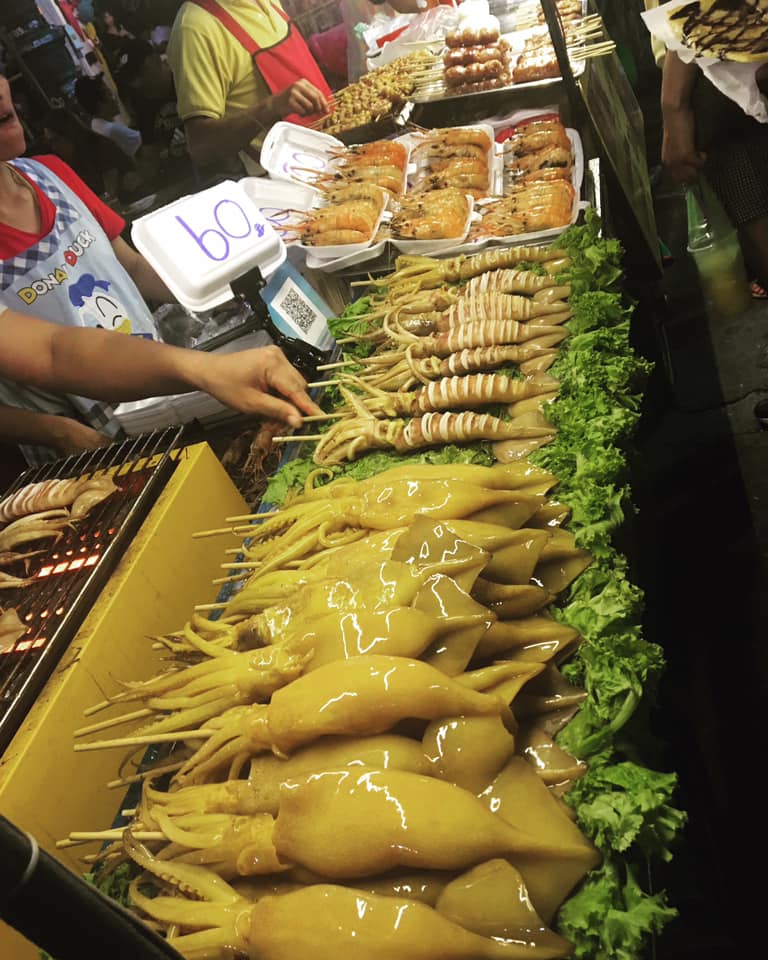 Day 2: At 7 o'clock we get up and get ready to go Pattaya. (Like Sg – Vung Tau) To go there, I can take a bus to save money or take a taxi to save time. Hihi because I was also afraid of not knowing how to move to the hotel and in the afternoon I went to Koh Larn island, so I decided to take a taxi to hurry when the deal with the driver was 1500bath and took it straight to the hotel address. The thing to note when taking a taxi, you remember to negotiate the price as the total and the baht, because many people may be ok at that time, but when they finished driving, they said it was the price for 1 person or charged in USD. Around 11:30, I went to the Unixx hotel and checked in, then went to lunch and went to the pier to go to the island.
I walked to the pier about 2km, went to Walking Streets, it was very fun here at night. When you arrive at the pier, you will have an invitation to go by canoe for 300bath / 1 person that can be negotiated down to 200bath / 1 person, and if you take a bigboat, it only costs 30bath / 1 person but does not take you directly to the beach. To get there you have to rent a car or walk. I walk, but I have to say that going 2km is super tiring because I have to climb a pretty steep slope (crossing a mini mountain) to reach the sea. Going to the beach, I rented a chair with an umbrella for 100bath, then changed into beach clothes. If you just replace you, there is no fee, but if you take a bath after bathing, it will cost 50bath / 1 month. After taking a shower, I changed my clothes and then returned to the mainland to the hotel to take a shower. In the evening, I went to see alazcar show (show bd hoi) – heard about Thai specialties. After watching, we walked to the night market to eat and drink. Then at 11 o'clock back to the hotel to buy more late night food
Day 3: Because the hotel is so beautiful, we wanted to spend money on it, so we slept until 8am, microwaved food bought at 7-11 in the evening to have breakfast. Around 9:30 a.m. drop off the hotel and go to the Golden Temple. After sightseeing, take the songthew to Terminal 21 to eat foodcourt and then return to Bangkok. This time, time is not very urgent, so I take the bus to save money. You just need to determine the direction of the bus station according to ggmap and then catch the songthew saying the bus station is only about 20bath / 1 person. Heard the bus price review was about 200bath but when I bought a ticket, I bought a trip with 120 baht / 1 person to Ekkamai station. After getting the ticket, you go out and wait for the bus at the station, the bus station in Thailand is not as busy as in Vietnam, what time does the car go to the station, so finding the car is very easy just look at the license plate printed on the ticket and The car notice board just came and went to the right car. Because I was also tired, I got into the car to sleep, so I found the car to be quite ok hihi.
Stop at that station and then grab grab the hotel still in Khaosan area is Khaosan Palace Hotel. If you go in a large group, then every time you log in with grab vs new phone number, you will get 40% off when you go for the first time, it will save more money. It was already 4am when we got back to the hotel, so we took a shower and then went to Ocean Life according to our pre-booked tickets. At 19:00, I ordered a buffet on the 76th floor at Bayoise Sky, so after visiting the aquarium, I walked there for nearly 2km and was hungry and ate delicious food hehe. After eating at 9pm, I went back to the hotel to grab and then continued at Khaosan road. Try 1 beer a day: Chang, Leo, Sing with grilled meat.
4th: That morning, I went to Wat Arun, nearby there was Wat Pho, the Royal Palace, but I only chose to go to Wat Arun because I felt the same. I went to Tuktuk to Wat Pho, looking in, I will see a small market there that sells train tickets to Wat Arun for only 4bath / 1 person (the train carries me across the river because it's opposite). Wat Arun is really super beautiful, taking virtual photos is always the price of 50bath (wat pho 200bath, palace 500bath). After taking pictures, I went back to the pier to go to Icon Siam. Icon Siam is a new area dubbed the "Mother of all malls" which is wide and beautiful.
How to get to Icon Siam: go back to Pier 1, I see people going to buy only orange boat tickets, which are a bit small and older but 15bath but when I get there, I see all the stalls selling blue boats and write not orange boat. I looked but couldn't find it, so I stopped buying a green ticket 60bath, go immediately, fast, the train is also beautiful, you can go to the roof to enjoy the scenery. Sightseeing to eat and drink in there and then go shopping in the afternoon. I grab to BTS station and then take BTS to Platinum market, Pratunam: one of the biggest markets in Bangkok. After I bought it, I went to grab it through China Town to eat T&K seafood according to everyone's review. The price there is ok but the seafood is fresh and delicious. Sitting down to write, I crave tom yum hotpot so much. After eating, I went back to Khaosan. I walked a lot that day. That was the end of the trip and the next morning I returned to Saigon.
Tips after the trip that I want to share with you the most:
About Khaosan Street: If you come to Bangkok you must come here to know how interesting it is.
About food: Must enjoy all Thai specialties, each one is very special.
About shopping centers: Because Thailand has a lot of big commercial centers like Central World, Siam Pragon, Siam Center, Siam Discovery, Icon Siam, if you go for a few days like me to save time, choose Icon Siam to go because it's like a Thailand. shrink.
About the plane: This is the thing that I regret the most and must be the experience of a lifetime. Hic.
First: 11:30 am I fly from Suvarbhumi to SG, but because of Bangkok traffic jam, I went to ARL station a bit late and arrived at the check-in place at 10:44 am, I didn't let me check in because the flight attendant said I was 4 minutes late (must check in) If you print 50 minutes in advance on your e-ticket, you won't be able to, when you're in Vietnam, you'll be able to check in faster for me too) have to buy a ticket to change another flight. There is no other way to buy the 1400bath ticket again. But when I went to Vietjet in Vietnam, it was not so harsh, this is the first time I encountered this case when traveling by plane, so I want to share with you guys to be more careful to not lose money like me at that time. must be just us.
Second: when we go, we plan to carry 7kg each, so we only buy luggage, subjectively don't weigh it, when we go to the airport, we each have a little extra, so we have to buy luggage on the spot. 630 total (if you buy in advance only 260k)
Move: If you take a taxi, remember to negotiate the total, the unit of bath to avoid being cheated. If you go in a large group, you download the Grab app and enter a new phone number and you will get a 40% discount / 1 time, saving a lot. The specialty here is traffic jams so you should consider leaving it for a long time. You walk a lot, so you should wear the most comfortable shoes.
Weather: If you are hot and move a lot, wear comfortable and easy-to-move clothes.
Money: I should keep extra money in case I don't think about losing money like me.
7-11: Always the best choice for you to get hungry quickly.
Service: buying service in advance on KLOOK will be much cheaper than buying at the counter directly.
The total cost of my trip is 8 million, I do not charge for the ticket transfer
According to the Bao Vy
See also the article:
The beautiful temple in Thailand is eagerly checked-in by young people
Z9 Resort – Floating resort on the river in Thailand – as beautiful as the miniature Maldives
Koh Kood Island – the island of lovers in Thailand you may not know
Xem thêm nhiều bài viết về : Địa Điểm
Nguồn : dulichchat.com